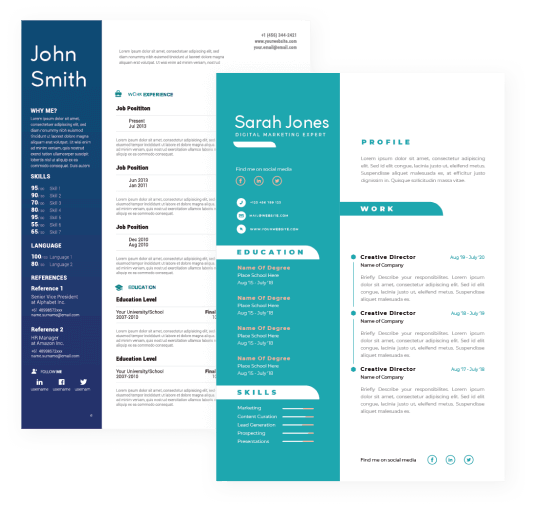 RESUME PURPOSE
Waitress with two years of experience. Have a pleasant appearance, neat, energetic, and hardworking. During the period of work, have served more than 50 major events (weddings, corporate parties, anniversaries). Thanks to the quality of service, have attracted more than 30 new customers. Have a good experience in serving dignitaries and foreign guests. Have not a single complaint from clients. Would like to use the acquired knowledge and skills in a managerial position in your restaurant.
CONTACT
Email: [email protected]
Phone: (321) 571-1619
Address: 20735 Stevens Creek Blvd, California, CA 95014
SOCIAL MEDIA
instagram.com/kate.edington
facebook.com/kate.edington
twitter.com/kate.edington
linkedin.com/kate.edington
SKILLS
Knowledge of serving standards
Cultural communication skills with visitors
Ability to advise in the choice of dishes and wines
Good memory
Pleasant appearance and competent language
Good language skills
EDUCATION
University of California Los Angeles, CA
May 2019
AWARDS
Implementing the Best Menu Strategy, Golden Deli Restaurant, January 2021
WORK EXPERIENCE
WAITRESS
Tacos Los Palomos, Los Angeles, CA  /  July 2019 – July 2020
Table setting in accordance with the established requirements
Control over the cleanliness, condition, and completeness of appliances, dishes, tablecloths, and napkins. Replacing tablecloths and napkins as they become dirty
Maintaining cleanliness in the hall
Knowledge of the menu and study of its changes, knowledge of the main and seasonal dishes and drinks offered to guests
Advising restaurant guests about the specifics of food and drinks. Assistance in placing an order. Consulting on cooking times
Receiving orders from restaurant customers
Serving food and drinks in accordance with the established rules of service
Assisting in training 5 new waitresses based on the restaurant specificity and understanding the work methodology
HOSTESS & WAITRESS
Golden Deli Restaurant, Los Angeles, CA  /  July 2020 – Present
Development and implementation of new strategies for the introduction of the menu, which led to an increase in purchases by an average of 15%
Table setting, control over the cleanliness in the hall, the condition of cutlery, tablecloths
Receiving orders from restaurant guests, serving food and drinks
Resolving controversial situations within own competence
Training 2 new waiters in providing quality customer service
Three steps to write a perfect waiter/waitress resume
There are millions of cafes, bars, and restaurants, each of which has several waiters. On the Internet and job boards, you can find thousands of vacancies which makes this position rather popular. Especially if you don't have prior education or want to make extra money during your studies.
With our tips and a great waiter/waitress resume writing service example, you will surely create a great self-presentation.
1. Begin with a powerful career objective
Writing a good waiter/waitress resume starts with a career objective. It consists of a sentence or two and is placed at the beginning of the resume. The career objective is similar to an essay summary and thesis statement and motivates hiring managers to read further. Here are a few winning examples:
Waiter with 4 years of working experience at quality restaurants
Excellent knowledge of restaurant equipment and Points-of-Sale terminals
Willing to improve my skills and knowledge by becoming a waiter in your restaurant
A good career object attracts the attention of the hiring manager and shows them why you are the best candidate for the particular position.
2. Quantify work experience
If you want to get a waiter/waitress job, remember that you only have several seconds to grab the attention of the hiring manager. They scan the resume within several seconds and close them if they don't find anything interesting.
One of the best ways to stand out is to quantify your achievements and skills. And to form them into a bulleted list. Here are several great examples:
Memorize the café's dessert menu, which results in a 10% higher daily dessert sales averaging $200.
Remember orders and manage supplies in a 250-seat restaurant
Introduce a new strategy of improving sales which increased sales by 15%
If you don't think that your numbers are impressive, it is still necessary to indicate them. Trust us, employers always appreciate when students quantify their achievements.
3. Choose the skills wisely
When working on a waiter/waitress resume, picking the right skills is a talent. With their help, you can highlight your proficiencies and mask the things that you still lack. The two most important categories are hard and soft skills. Hard skills are those which concern the industry directly, while soft ones emphasize your personality and are often transferable.
Waitressing role hard skills:
Points-of-sale terminals
English/French
Customer service
Soft skills:
Teamwork
Problem-solving
Good memory
Critical-thinking
FAQ
What should a waitress put on a resume?
It is highly advisable for a waitress to put the following skills on a resume: PoS systems, patience, communication, active listening, food and beverage safety, positive vocabulary, and quick problem-solving. There might be other skills depending on the requirements of a particular establishment.
Should I put waitress on my resume?
Yes, even if you are applying to a completely different position, adding waitress experience to your resume is a significant advantage because it shows that you possess many key skills and proficiencies. Don't forget to quantify your skills.
What are the skills of a waitress?
Above we have already provided a detailed explanation of the kills that a waitress should possess. The main include customer support, good organization and communication, perfect memory, teamwork, being cool in accepting criticism, physical strength, active listening, and a genuine wish to help others.
What are the 3 duties of a waiter/waitress?
It is difficult to distinguish only three main duties because every day waiters and waitresses have to complete lots of tasks. For example, greeting visitors, taking orders, delivering meals, making sure that the guests have everything needed, and checking whether the orders look presentable.