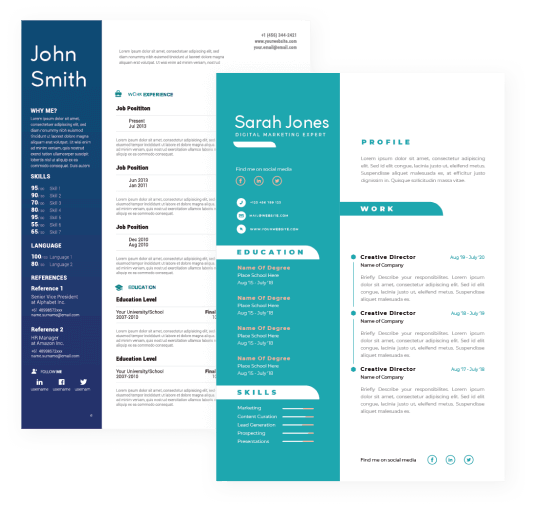 12 Melwill Dr., Capetown, DC 67890
(321) 789 – 543
Customer Service Representative with 7+ years of experience in tech support, including customer care and sales. Skilled in conflict resolution, customer care software, and excited about working with people. Target at being hired on the position of manager.  
Professional experience
Uvoland Co. New York
Customer Care Support November 2017 – Present
Trained three new employees in the way to utilize the CRM system, organizing customer interaction logs, and entering customer information.
Made 100+ calls every day, including such duties as cancelling services, presenting relevant product data, retrieving customer information, and signing up new users.
Got 95% of customer satisfaction rate.
Offered a new method to deal with customers who wanted to cancel using the service, which led to a 12% decrease in cancellations.
Conducted research looking for new methods to attract new customers and boost profit.  
Everprofy Marshville, SC
Customer Care Intern October 2014-2017
Gave basic support for customers regarding the company products and resolved problems at a 95% success rate.
Introduced the company's services & products, including special discounts and prices.
Keeped on being calm and steady at all times, no matter how displeased the customers were.
Learned how to use the CRM system and other software.
Earned the award "Fastest Learner" after the 3 first months of training.
Education
Yale university
B.A. Business, 2013
GPA 4.0
President's Scholarship Recipient
Additional Skills
Team Leadership
Problem Tackling
80 WPM Typist
Perfect communication skills, focusing on the customer support
Experienced Microsoft Word & Excel User
Experienced CRM user.

4 Practical Clues for composing a perfect resume of a customer service representative
To compose a customer service representative resume sample that will work as it should pay attention to several crucial aspects. First of all, even top-class experts in your profession often struggle when the resumes don't work. And this will be for a simple reason – the resume won't show the necessary information where it must be present.
That's why we'll explore the customer service resume sample here. Let us define what precisely the hiring people want to see. And then we'll make this resume a match made in Heaven. Fortunately, it is not sophisticated. There are about 4 tips that can make a difference and distinguish you from other customer service representatives.
Tip 1. Develop powerful resume objectives
The resume objective is a brief introduction of your candidature. It has to tell what you are and what benefits you can bring to the company. This small piece of information is at the top of the application document. Therefore, it is what the HR person sees at once. The impact of this summary is tremendous. It has to grasp the manager's attention and convince them that you are the right candidate for that vacancy.
As a rule, the customer service resume objective consists of 3-4 sentences. In them, you have to provide the following information:
How many years of customer service representative experience you had;
Which duties you performed in the past – ensure to point to the relevant activities for this specific vacancy;
Which relevant skills you possess – check that they should match the vacancy;
How you improved the results and which benefits you brought to the company in the previous position;
What career goals you'd pursue in this company.
When you pick up your most relevant skills and previous accomplishments, summarize them according to the above points. The more concise and convincing this piece is, the higher your chances become.
Tip 2. Expose your relevant professional capabilities in the application
A resume usually has a "Skills" section. There, you list your relevant abilities to prove that you excel in that position. This is the dedicated place to present that information.
An important note is, pick the information to mention wisely. You may possess dozens of talents, but not all of them may match. Examine the vacancy and its requirements with attention. Note which exactly competencies are demanded. If you possess these features, put them into your resume and use the same keywords as defined in the vacancy. It helps your application pass through the Applicants Tracking System to the human managers.
Also, check both your hard and soft skills. Hard skills usually refer to the knowledge of specific methods, techniques, and software. Soft skills are those related to communication and problem-solving. When you can present a decent combination of all such skills, you can expect good results.
Tip 3. Provide numbers and mention concrete accomplishments
Be precise in your resume. You should give the hiring managers some measurable metrics to understand how good you are. Thus, be specific. Mention the number of calls you handled daily on average. Tell how many new clients you attracted, how many complaints you resolved successfully.
The primary metric for the customer service manager is the customer satisfaction rate. It will be good to provide the value and the context. If your work helped to increase this rate for a company average – define how much. Also, mark how your results were better than average.
Tell about the innovations you implemented and how they impacted the overall results of your department and the company. Mention the training programs you participated in and relevant certifications you obtained. It is proof of your high qualification.
The key is the same – you show that you can bring additional benefits to your employer.
Tip 4. Consider the vocabulary and pay attention to active verbs
The vocabulary you use in your job application means much. It forms the overall impression the resume leaves.
A good technique is to apply action verbs commonly associated with customer care. Such words make your resume better optimized for both automated sorting and human search.
Thus, apply such action verbs as communicate, manage, resolve, implement, train, provide, handle, etc. Active verbs add more strength and confidence to your statements. Altogether, this presents you as a skilled professional.
FAQ
What should be in a customer service representative resume?
Customer service is a vast area that demands both hard and soft skills. If you seek a new position in customer service, stress your previous experience. What is more important, your impact on bringing more value to the company. Your resume should expose your knowledge of the required specific customer service techniques. Also, stress your soft skills. They are communication, time management, problem-solving, etc. If you speak several languages, it is a big plus too.
What are the duties and responsibilities of a customer service representative?
The work duties of a customer service representative are many. You have to communicate with customers and resolve their problems. Thus, you will be responsible for taking their requests via different channels (phone calls, online chat, email, messenger, etc.). First, you will need in-depth product knowledge to answer the customers' questions. You will troubleshoot issues and provide the customers with working solutions. Thus, you have to communicate with users and support their successful customer experience.
What are the most important qualities of customer service?
Many qualities are necessary. Each separate case will demand specific abilities and knowledge. We can define the three most essential qualities that will be the foundation to rely on. They are:
professionalism (your product expertise, knowledge of the working systems, and in-depth experience);
patience (you remain calm and focused dealing with sophisticated user cases and complaints);
customer-oriented approach (your readiness and desire to resolve the customer's problems).
How many skills should you list on a resume?
Most resume guidelines recommend including up to 10 skills. When you select them, make sure that these customer service skills are relevant. Use the same keywords as provided in the vacancy description. Don't try to impress the employer with the variety of your skills. Instead, persuade that you have everything necessary. Stress that the level of your competence is high.
Conclusion
We hope that these tips will help you see how to write a stellar resume. Now you can proceed to compose it for the desired customer service position. Be attentive and use the examples from our database. Also, ensure to adjust your application to the job requirements. Our resume writing services will also be glad to assist you. Should you prefer having your resume composed and optimized for you, turn to our specialists.