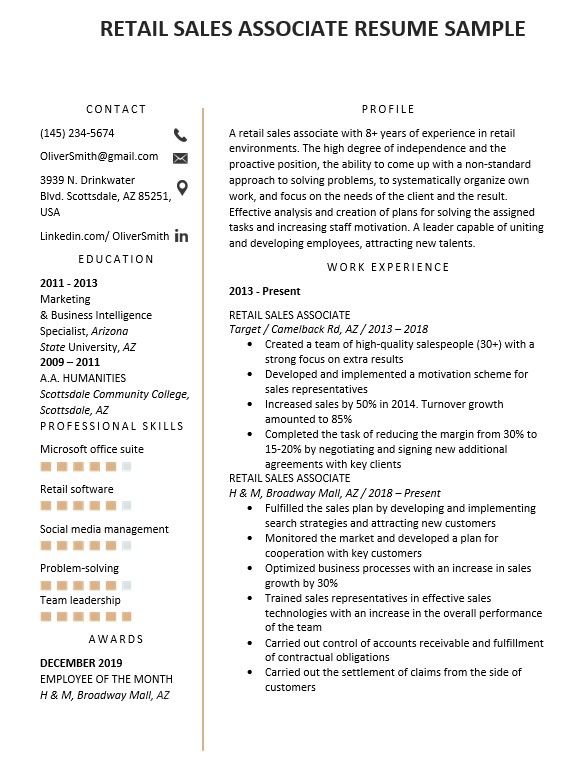 PROFILE
A retail sales associate with 8+ years of experience in retail environments. The high degree of independence and the proactive position, the ability to come up with a non-standard approach to solving problems, to systematically organize own work, and focus on the needs of the client and the result. Effective analysis and creation of plans for solving the assigned tasks and increasing staff motivation. A leader capable of uniting and developing employees, attracting new talents.
CONTACT
(145) 234-5674
3939 N. Drinkwater Blvd. Scottsdale, AZ 85251, USA
Linkedin.com/ OliverSmith
EDUCATION
2011 – 2013
Marketing & Business Intelligence Specialist, Arizona State University, AZ
2009 – 2011
A.A. HUMANITIES
Scottsdale Community College, Scottsdale, AZ
PROFESSIONAL SKILLS
Microsoft office suite
Retail software
Social media management
Problem-solving
Team leadership
AWARDS
DECEMBER 2019
EMPLOYEE OF THE MONTH
H & M, Broadway Mall, AZ
WORK EXPERIENCE
2013 – Present
RETAIL SALES ASSOCIATE
Target / Camelback Rd, AZ / 2013 – 2018
Created a team of high-quality salespeople (30+) with a strong focus on extra results
Developed and implemented a motivation scheme for sales representatives
Increased sales by 50% in 2014. Turnover growth amounted to 85%
Completed the task of reducing the margin from 30% to 15-20% by negotiating and signing new additional agreements with key clients
RETAIL SALES ASSOCIATE
H & M, Broadway Mall, AZ / 2018 – Present
Fulfilled the sales plan by developing and implementing search strategies and attracting new customers
Monitored the market and developed a plan for cooperation with key customers
Optimized business processes with an increase in sales growth by 30%
Trained sales representatives in effective sales technologies with an increase in the overall performance of the team
Carried out control of accounts receivable and fulfillment of contractual obligations
Carried out the settlement of claims from the side of customers
How to create a resume for a retail sales associate position
Even though the pandemic influenced lots of industries, the retail sales job is still in demand and remains one of the biggest employers in the US. This makes the job rather secure and rewarding, not depending on whether you are searching for long-term employment or a seasonal gig.
The competition is quite tense, so you should not only examine our associate resume writing service sample but the tips below as well.
1. Always quantify your achievements
When you write a retail sales associate resume, remember to be specific and add numbers. The retail industry loves them because it is measured in the profits and sold items.
For example, you can mention how much revenue you have generated for the store, the people you educated, the time you have saved, and so on. Write down your biggest achievements in the position and think of ways how you can quantify them. For instance, generated $10.000 of revenues per month or completed daily responsibilities 15% quicker than other associates.
2. Highlight retail and sales proficiencies
There is one thing you should remember about a retail sales associate: they are valued because of their skill set, not their academic background or prior work experience. That is why this section should remain the most important and detailed. The only secret to remember is that highly detailed resume skills should be relevant for a particular job.
If you don't know what skills to indicate, start by reading the job description. There, you will find the necessary keywords that can be added to your own resume. Here is a winning example:
Able to fulfill the needs of customers
Stay up-to-date with the product innovations and tell customers about the brand
Deep knowledge of merchandising instruments and strategies
Strong match skills
Knowledge of French and German
3. Mention your education and academic background
When chasing retail sales associate positions, working on the skills section should occupy most of your time. But this doesn't mean that it is the only section that is worth the attention. Having a strong academic background is a big plus. Especially if you have a degree in related fields. For example, business, management, marketing, or finances. Here are also a few courses that you should include:
Management theory
Oratory
Organizational management
Accounting
Advertising
Economics
Communications
Business math
Human relations
4. Don't forget to use action words
The best way to render your retail and sales skills is to include action words. They show that you are a professional associate and know what you are doing. We have made a list of the best action words that will be of great help:
Calculate
Organize
Assist
Welcome
Recommend
Sell
Stock
Educate
Merchandise
If you want to broaden the vocabulary, get familiar with hundreds of other active verbs, which you can find online.
FAQ
What should I put on my resume for retail associates?
A retail sales associate's resume should be centered around multiple skills. Here are the most important ones: organization, problem-solving, interaction, time management, leadership, and interpersonal skills. Don't forget to mention knowledge of retail software and product. The more skills you include – the better. But all of them should be vacancy-related.
How do you describe a sales associate on a resume?
A sales associate has a bunch of duties, so the best way to describe them is to tell about the regular duties. They include welcoming customers and answering their questions, providing top-notch customer support, and impacting the sales. They should have a perfect knowledge of the product and manage transactions.
What are the responsibilities of a retail sales associate?
In general, a retail sales associate is responsible for helping customers to make purchases in their store. The main duties include helping customers, conducting payments, and ensuring that the store has all the necessary items. There might be other duties, so make sure to clarify the details at once.