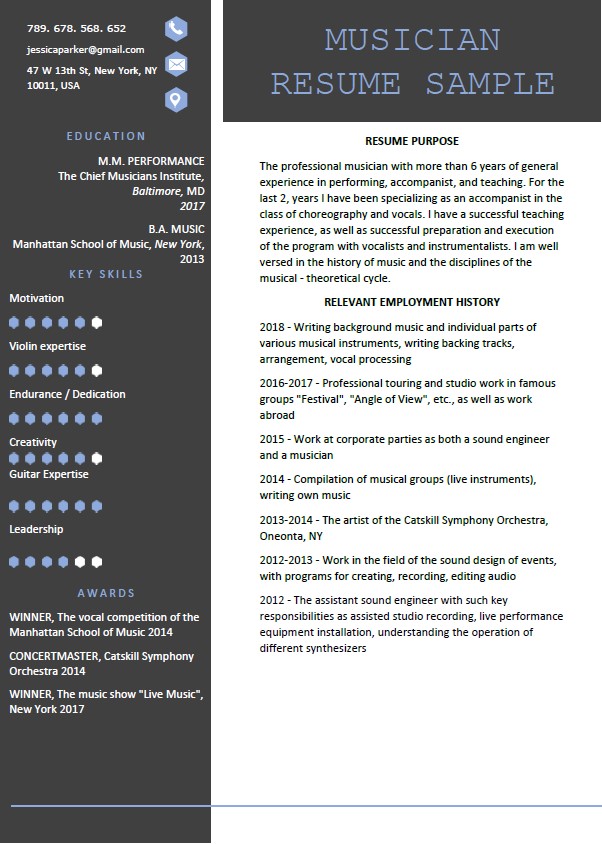 RESUME PURPOSE
The professional musician with more than 6 years of general experience in performing, accompanist, and teaching. For the last 2, years I have been specializing as an accompanist in the class of choreography and vocals. I have a successful teaching experience, as well as successful preparation and execution of the program with vocalists and instrumentalists. I am well versed in the history of music and the disciplines of the musical – theoretical cycle.
RELEVANT EMPLOYMENT HISTORY
2018 – Writing background music and individual parts of various musical instruments, writing backing tracks, arrangement, vocal processing
2016-2017 – Professional touring and studio work in famous groups "Festival", "Angle of View", etc., as well as work abroad
2015 – Work at corporate parties as both a sound engineer and a musician
2014 – Compilation of musical groups (live instruments), writing own music
2013-2014 – The artist of the Catskill Symphony Orchestra, Oneonta, NY
2012-2013 – Work in the field of the sound design of events, with programs for creating, recording, editing audio
2012 – The assistant sound engineer with such key responsibilities as assisted studio recording, live performance equipment installation, understanding the operation of different synthesizers
EDUCATION
M.M. PERFORMANCE
The Chief Musicians Institute, Baltimore, MD
2017
B.A. MUSIC
Manhattan School of Music, New York, 2013
AWARDS
WINNER, The vocal competition of the
Manhattan School of Music 2014
CONCERTMASTER, Catskill Symphony Orchestra 2014
WINNER, The music show "Live Music", New York 2017
This example was compiled by a professional musician who knows how to use hooks to increase auditions and attract employers', producers' attention. Get inspired by the music resume sample and strike hard on competitors:
1350 Broadway New York, NY 10018• [email protected] • (564) 337-7896
Relevant Employment History
2020 – Fremont Symphony Orchestra (third chair, first violin section)
2020 – Hollywood Studio Symphony (frequent sub)
2019 – Modesto Symphony Orchestra (frequent sub)
2019 – Long Beach Symphony Orchestra (third chair, first violin section)
2015-19 Freelance work in:
Yale Symphony Orchestra
Boston Baroque
Cobb Energy Performing Arts Centre, Atlanta
Reynolds Hall, Las Vegas
McCaw Hall (Seattle Opera), Seattle
Ziff Ballet Opera House, Miami
Howell Opera House, Howell, Michigan
Willow String Quartet
Abington Choral Club
Adesso Choral Society
2014-15 Orion String Quartet (regular)
2014-15 Chicago Symphony Orchestra (regular)
2014 Acadiana Symphony Orchestra (regular)
2013-14 Allentown Symphony Orchestra (regular sub)
2013 Tour with Mercy College's step team
2012 Recording:
"Orfeo's Vigil" soundtrack for D.C. Independent Film Festival (Director Jack Baker)
Awards / Other
2015 Winner, Naumburg Competition
2014 Concertmaster, Cambridge University Symphony Orchestra
2013 Winner, Music Festival Wizard
Education
M.M. in Performance, Kent State University – Kent, Ohio, United States 2015
B.A. in Music, University of York – Heslington, York, England 2012
Musician Resume Writing Tips
If you want to prove that you are an excellent musician, your resume should be perfectly structured and well-formatted. Based on the example, you can see that it is very different from the standard resume, where you can write more information about yourself. A musical resume requires precision, and we have outlined how to achieve this in the following tips.
Write About Employment History
Start your resume by describing music-related activities in chronological order. This means that you have to structure the music-related experience from the most recent to the least recent. This section should include information about the years you worked, the organizations you worked for, the instruments you played on, or what position you held. If you are a young musician, list your student performances.
Write About Awards or Other Important Achievements
The second section that your future employer should know about is awards or other essential achievements. Describe what events, concerts, festivals you have participated in and received awards – this will increase your chances of being invited to audition. Having an award is a testament to your proficiency in the instrument.
Write About Education
Complete your resume with a description of your education. If you graduated from universities, colleges, or institutes of music, this would be your most vital advantage. If you do not have higher education in music, indicate your school education and the one you received later. You can also specify the passage of online music courses.
Conclusion
As you can see, writing a musical resume is not difficult if you understand how to structure the information. However, you can use resume writing services if you do not have time to create the perfect document for work or lack the knowledge to format it correctly. Professional writers know how to make a lack of experience to your advantage and make you a strong candidate for the position.
FAQ
What skills do musicians need?
A musician must have the following skills:
Motivation, commitment, and perseverance.
Communicate confidently with your audience.
Endurance – work tirelessly.
Flexibility – to adapt to force majeure circumstances.
Find a common language with the team.
Creative thinking.
Self-discipline – being able to manage time.
Interpersonal skills.
Ability to accept criticism.
Patience.
Ability to pay attention to details.
In addition to these skills, you must be well versed in marketing, advertising and business. Most often, musicians work for themselves.
Do musicians have resumes?
Every musician should have several types of the resume: performance, teaching, arts administration. This will make it easier to find a job, depending on your goals.
How should a musician write a resume?
To write a musician resume, you need to stick to a simple structure:
Profile.
Employment history.
Awards.
Education.
These modules may differ depending on the type of work. However, it would help if you stuck to the formal language. In your resume, you should state skills, experience, and education. The rest of the information, which will reveal more about you as a person, you can write in your cover letter.