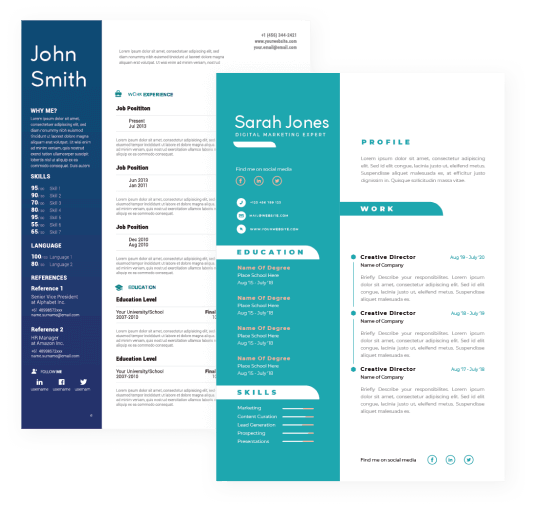 ARTIST RESUME SAMPLE
RESUME PURPOSE
The artist with 5 years of experience in fine arts. Extensive practical experience in developing corporate identity, printing, souvenir, and advertising products. The main achievements are skills in organizing and conducting presentations, exhibitions, and developing the concept of an advertising campaign. Have practical experience in interior design, web design. The portfolio and recommendations are attached.
CONTACTS
SOCIAL MEDIA
facebook.com/oliviajohnson
instagram.com/oliviajohnson
linkedln.com/oliviajohnson
twitter.com/oliviajohnson
SKILLS
Sculpture
Photography
Work Ethic
Customer focus Leadership
Time management Critical thinking
Attention to details
EDUCATION
B.S. INDUSTRIAL ARTS
University of the Arts London, LDN / 2012
M.A.  STUDIO ART & ART HISTORY
The Art Academy London, LND / 2016
EXPERIENCE
ARTIST (FREELANCE POSITION)
Self-Employment, London, LDN / May 2017 – Present
Design of printed products
Portraits from photos and from nature (both in pencil and vector images)
Design of printed products (business cards, brochures, leaflets, banners), logo design
Photomontage (photo retouching, light correction, collage)
ARTIST-DESIGNER
London Artist's Studio Finder, London, LDN / January 2016 – March 2017
Creation of sketches, full supervision of artwork
Creation of outdoor advertising: playbill, posters, banners
Creation of illustrations for texts (graphics, pictures, diagrams, etc.)
Use of graphics programs (Adobe Illustrator, Adobe Photoshop, CorelDraw, etc.)
Work with clients.
EXHIBITIONS
Tate Modern (Bankside, London SE1 9TG) / June 2017
Somerset House (Strand, London WC2R 1LA) / May 2019
Great writing tips for an artist resume
Many people think that artist resumes are not necessary and a portfolio is more important. However, any specialist should have a file with a piece of brief information about their background, work history, and other related issues. If you want to create a great self-presentation, artist resume writing tips in the following paragraphs are exactly what you need.
1. Let the introduction be an opening
Apart from your outstanding art pieces, you should approach potential hiring managers with a great resume. It always starts with an introduction that motivates hiring managers to go on reading. Here are a few tips on how to make your artist resume unforgettable:
Always describe your achievements no matter how minor they seem. This includes school exhibitions and street art competitions
Mention that you are ready to provide a portfolio. It will surely fuel HR's interest
Briefly highlight what makes you a perfect candidate for the position
Even though artists can work in any field and industry, you should always include an introduction with a strong opening.
2. Emphasize your academic background, exhibitions, experience, etc.
The next part of writing your artist resume involves a detailed enumeration of everything you have achieved throughout your career. This part acts as a portfolio and a reference page and often becomes the decisive factor of whether to hire you or not.
Unfortunately, a resume is limited in size, so if you have a big list of achievements, you will have to make it shorter. Think of the most relevant experiences and events for this particular role. This may be the top prize at the college competition (with years and titles), personal exhibitions, and so on.
If the vacancy involves more in-office responsibilities, you can add extra 'down-to-earth' achievements. For example, completed a university project two weeks before the deadline or cataloged 500 items in 50 categories. Quantifying your success is a great approach and a winning strategy not depending on what occupation and industry you target. And don't forget to add everything to a good-looking bullet list.
FAQ
What should an artist put on their resume?
Like any other resume, an artist's self-presentation should include particular elements. They are reviews of the works, publications on the Internet or in print, write-ups, references if possible, workshops or seminars you have completed, awards, conferences, and so on.
How do I make an artist resume with no experience?
It is a well-known fact that specialists without prior experience struggle hard to find a job. If you are a beginning artist, we recommend building a website with a portfolio, your email, and contact information. If possible, provide references and a short biography. Never use unprofessional emails and someone else's phone numbers. Don't makeup lies about your non-existent skills or experience.
Do artists need resumes?
Yes, every specialist needs a resume. Even though artists are creative people, they should provide a piece of brief information about their work, experience, aspirations, and goals. If you don't know what format to choose, stick to the traditional structure. Or get familiar with an artist's resume example on this page.
What skills do artists have?
Artists need to possess a variety of different skills. First of all, a talent which you are born with. Other proficiencies include self-belief, dedication, creativity, and technical skills. You should also be a good communicator and know how to organize things.